Quantum set to provide liquefied natural gas to companies in Tema by 2016
Details

Created on Thursday, 17 October 2013 20:30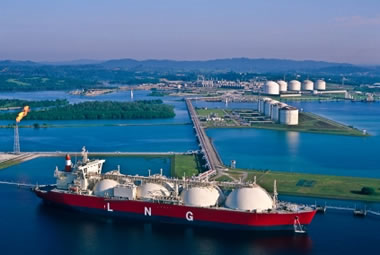 Quantum Power Ghana Gas Limited is set to provide Liquefied natural gas (LNG) to Tema power companies and manufacturers in the first quarter of 2016.
The LNG is natural gas converted to liquid form for ease of storage or transportation across long distances.  The company is developing the integrated infrastructure needed to import LNG, store it, re-gasify it and deliver it to large-scale users in Tema.
A statement issued on Monday said "Spokespersons for the company disclosed this on the sidelines of a two-day international LNG workshop hosted by the Ministry of Energy and Petroleum with support from Quantum Power in Accra recently".
Mr Matty Vengerik, a representative of the parent company of United Kingdom's Quantum Power Ltd said: "Quantum Powers' gas solution involves floating storage and re-gasification unit (FSRU) technology.  This significantly lowers cost and delivery time for LNG projects".
He said the use of LNG could reduce fuel costs to the power industry by as much as 25 per cent.
Mr Vengerik said: "Our initial output can provide the needs of most of the large-scale gas users anticipated to operate in Tema by 2016.  As demand in the Tema market expands, we can bring additional re-gasification units on the FSRU online".
Mr Don Ackah, Chief Executive of Quantum Power Ghana Gas Ltd, observed that part of the elegance of the FSRU solution is that we are viable, both as a medium-term bridge to indigenous gas production or as a long-term solution.
He said: "If as we all hope Ghana's indigenous gas production catches up with the power demand and even cheaper natural gas becomes available in the next ten years we can simply sail our FSRU away and set up operations elsewhere.  If there continues to be a shortfall we can extend our project life as required".
The statement noted that Quantum Power Ghana Gas Ltd has signed a memorandum of understanding (MoU) with the Ministry of Energy and Petroleum under which Quantum would develop the LNG infrastructure in Tema and work with the State to source LNG for national and even regional use.
It said in addition to this MoU, Quantum has acquired a provisional license from the Energy Commission for the development of its facilities.
"The Ministry of Energy and Petroleum hosted the LNG workshop to build the capacity of large-scale gas users and the energy sectors in Ghana, Togo and Benin generally and to enable an effective stakeholder discussion about the prospects and challenges of using LNG in Ghana," it stated.
Source: GNA