Ghana should suspend oil exploration - Ivory Coast tells Tribunal
Details

Created on Monday, 02 March 2015 14:43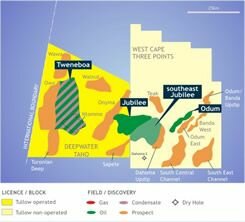 Ghanaian authorities are bracing for a ruling which could see Tullow Oil suspend exploration in disputed territories at the request of Côte d'Ivoire.

The International Tribunal of the Law of the Sea has received the application from Côte d'Ivoire and is set to give a ruling by April 2015. Ghana's western neighbor is arguing that because the TEN territories are in dispute, Ghana should not drill oil until the longstanding dispute is finally settled.

The Dzata-1 deepwater well is at the heart of the dispute with the Ivorian authorities convinced that it lies within their maritime boundary.

Tullow is expecting to produce its first oil from the well by mid-2016 and has urged that work continues unimpeded.

After Ghana and Cote D'Ivoire engaged in years of negotiation which yielded no fruit, the matter was escalated to United Nations in 2010. Ghana filed for arbitration in 2014 and lawyers from both countries have since been locked at the Tribunal.

Ghanaian authorities are optimistic that Ivory Coast's claim will be brushed off. Sharing in Ghana's optimism, Tullow in a Monday press statement, Aidan Heavey, Chief Executive Officer of Tullow Oil, said "Tullow's advice
from external counsel is that Ghana has a strong case under international law that the current boundary location which follows an equidistance line, will be upheld by ITLOS in accordance with the Law of the Sea Convention"

The oil exploration company described the Ivorian move as a "legal tactic".
The case is expected to be decided by 2017.
source: myjoyonline